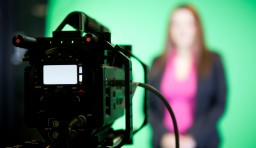 Take the fear out of video marketing
The first blog post in our video marketing trilogy covered the essential ingredients of a video marketing strategy and the second covered the pros and cons of hiring a professional or going it alone. This third and final post in the series is designed to help you if you decide to take the DIY approach.
Video production and editing has become as accessible at home as it is in the work-place, so why do so many of us baulk at the idea? It may just be that we're out of our comfort zone — standing in front of a camera isn't something we're all accustomed to.
Here are a few tips you might like to try:
1. Have an interviewer, off camera, asking questions — this provides a prompt for your presenter, and can make the content feel more dynamic, less talking-head.
2. Try placing the interviewee somewhere they are comfortable and which would appeal to your target audience — maybe an on-site meeting room is not as appropriate as you first thought.
3. Remember, not everyone is happy reading from a script. While some people like a script to guide them, others prefer simple notes or bullet points.
Whatever approach you take, remember to put yourself in the position of your audience — why might they want to watch, and what would make them want to engage with you?
If you're using video as a way of increasing brand awareness, or to entertain and educate your prospects or existing customers, let us know in the comments section below.