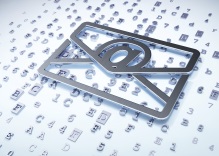 Email marketing is still a hugely important (not to mention effective) tool in the marketer's arsenal. Whether you've got one email to send, or are managing a whole campaign, making sure that your content does the right job is essential to delivering results, and that all-important ROI. To that end, we've got four tips to help you ensure your email marketing campaign is ship-shape.
1: Start with the reader
We can't stress this one enough. Why should the reader open your email? Why should they be interested in what you're saying? Why should they do what you want them to? Asking yourself these questions at all stages will help keep your content focused on the customer, not your company, and increase its effectiveness.
2: Design your subject line for maximum impact
The subject line will be the first bit of your email the reader sees – so it has to hook them in and convince them to open your email. Again, ask yourself 'why' – why would they want to open your email? Bear in mind you've got roughly 50 characters to pull your reader in – less if your reader is on a mobile device – so your message needs to be concise and compelling.
3: Make your instructions clear
What do you want the reader to do after reading your email? Download a white paper, or give your sales team a call? Ask a colleague to read your email; if they don't know what they should do after reading the email, then your reader certainly won't. Bear in mind that you can use visual cues like buttons, callout boxes and colour to guide the reader to your call to action (CTA).
4: Match the CTA to the buyer's journey
If your reader is only at the 'awareness' stage of their journey, chances are they won't respond to an invitation to call you – but they may well watch a video that helps them see how they can solve whatever business issue they're facing. Matching your CTA to where your reader is in their buyer's journey will help increase open rates and click-through rates, and help you more accurately guide them towards your offering as they progress through the journey.
Do you have any other tips for creating an email campaign? Let us know in the comments section, or talk to us on Twitter and LinkedIn using the buttons below.
https://hn-marketing.co.uk/wp-content/uploads/2015/07/email_envelope.jpg
156
219
Jon
https://hn-marketing.co.uk/wp-content/uploads/2015/10/HN-site-logo.jpg
Jon
2015-04-07 09:54:07
2015-07-30 14:53:16
4 tips for creating killer email marketing campaigns