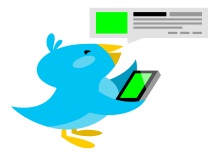 We recently published a Take5 detailing a major change to Twitter's direct message capability – namely that you can now send users a direct message people without you both having to follow each other. Almost before the keyboard had cooled down from writing that post , though, Twitter announced another change to direct messaging: the 140 character limit has been changed for direct messages, to 10,000 characters (or roughly 2,000 words, assuming each word has on average 5 characters in it). So to answer a question that we suspect many of you are wondering…
Does it matter?
As we mentioned in our last Take5 on this subject, the changes Twitter is making don't mean that marketers can now use Twitter as a sort of EDM platform: it's bad etiquette, for a start, and in any case since the user has to opt into the change your prospective audience may not be very large. So in that sense, the length of the DM could be said to matter very little.
However, we also mentioned that the changes do make Twitter a potentially powerful platform for supporting your customers – and this latest change only adds to that potential. With the ability to write longer and fuller messages than before, you can provide your customers with far more constructive help via Twitter – potentially answering their enquiry in its entirety without having to move the conversation to another platform. It's also far easier for customers who receive great service to tweet their good experience to their followers, which can only be a good thing. One piece of advice – if you do start receiving customer enquiries through Twitter, it might be a good idea to periodically request your Twitter archive (under 'settings') so that you have a record of what's been said.
What do you think?
What do you think of all the changes coming to Twitter? Have you taken advantage of them yet? Let us know in the comments section – or on Twitter – and have your say.
https://hn-marketing.co.uk/wp-content/uploads/2015/07/Twitter_DM.jpg
156
219
Jon
https://hn-marketing.co.uk/wp-content/uploads/2015/10/HN-site-logo.jpg
Jon
2015-07-21 10:01:23
2017-06-02 12:00:34
Twitter direct message character limit – to 140 characters and beyond