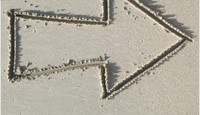 They're an unlikely pairing we know, but Barack Obama and Simon Cowell have at least one thing in common — their straight talking. Barack Obama's perception as honest, trustworthy and intelligent may have been crucial in his presidential campaigns, while Simon Cowell is both revered and reviled for his no-nonsense feedback to musical wannabes.
Their direct, confident approach plays a big part in building public confidence, as does their avoidance of rhetoric. An ancient art that was considered a noble accomplishment for many centuries, rhetoric is used to persuade and inspire. Unfortunately, nowadays it is frequently prefaced by 'empty' and is associated more with politicians and spin doctors than with compelling argument.
Although rhetorical flourishes can be useful in persuading someone to see things in a particular way, when they're used on weak messages, they can appear disingenuous or even nonsensical — especially in B2B marketing. This example is from a software company advertising a seminar:
"…gathering leading minds in business intelligence and the analyst community for expert consensus on the answer. Industry experts will highlight how you can leverage business intelligence to provide visibility into business critical information."
If you consider the message, all it actually promises is information about how to use information to get… information.
A better strategy in B2B copywriting is to get straight to the point in understandable plain English — talk about your product or service simply and clearly and you'll be on the right track. Best of all, plain speaking for B2B messages is easy to achieve. Just follow these simple rules:
Use short sentences containing only one main idea
Never use a long word when a short one will get your message across more powerfully
Avoid jargon, clichés, acronyms and management buzzwords whenever possible
Favour Germanic words over Latin — say 'each year' instead of 'per annum'
Be active — say 'we will do it' rather than 'it will be done': active verbs bring a document to life and are a lot easier to understand
Be definite — if at all possible, use 'will' not 'can'
Be brief — your readers will appreciate it, and there will be more of them
We'd love to know what you think. Share your ideas or jargon horror stories in the comments below, on Twitter or LinkedIn.
https://hn-marketing.co.uk/wp-content/uploads/2015/11/arrow-200x115.jpg
115
200
Catherine
https://hn-marketing.co.uk/wp-content/uploads/2015/10/HN-site-logo.jpg
Catherine
2016-05-31 09:52:59
2017-06-01 16:04:41
How clarity can make your B2B messages more powerful