It's the Royal Variety Performance this week, so of course there's only one topic on our minds at HN HQ — customer reference programmes! If you can't see the connection, read on and all will become clear…
What's the connection?
As we've said a few times before, customer references and case studies are fantastic ways to communicate your company's qualities and achievements to prospects. The Royal Variety Performance does the same thing: it showcases the achievements of the UK's entertainments and arts sector to help promote interest in the performing arts. (It also raises money for the EABF.)
Interestingly, customer references and the Royal Variety Performance share the same measures of success: quality is essential, and — our focal point in this post — you need variety.
Variety is the spice of life
If the Royal Variety Performance booked only singers, or dancers, or dogs, it would appeal only to people who enjoy that type of act – and those people would soon get bored of watching the same thing over and again. The same can be said of a customer reference program: if it covers only one aspect of your business, or only one type of customer, you risk limiting its appeal and effectiveness.
So, you may well ask, what's the best way add variety to your case studies (assuming that you can't recruit a dance troupe to perform it?)
Get to the story
When we conduct a case study interview for a client, we dig as deeply as we can into the customer's story to find out what challenges drove the need for our client's solution, why the customer chose our client over the competition, and the specific ways in which the solution has benefited the customer's business. It's that level of detail that helps to give case studies variety — even when you interview a number of customers who are from the same sector or are using the same solution.
Make your own variety performance
By taking the time to get detailed information about your customers and crafting a unique story about each one, you'll end up with a set of case studies that have more impact, offer more insight, and are just more interesting. You could use them to sell different elements of your solution, or present them as a pack to show how you can help a variety of customers overcome a range of challenges. Most crucially, you'll have something for everyone; an act for every taste.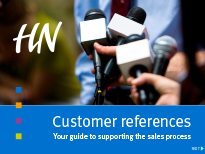 Download our ebook:
'Your guide to supporting the sales process with an effective customer reference programme'
https://hn-marketing.co.uk/wp-content/uploads/2015/10/variety_show.jpg
248
682
Jon
https://hn-marketing.co.uk/wp-content/uploads/2015/10/HN-site-logo.jpg
Jon
2014-11-11 09:28:39
2017-06-02 14:12:11
What the Royal Variety Performance teaches us about customer references