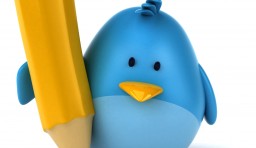 Deciding on your company's Twitter handle can be one of the most important decisions you make about your profile. It's often the first thing (along with your profile picture) that people see when they look at your posts, so it has to be spot on. So how do you choose the right one? To help you decide, we've got three tips for creating a great Twitter handle for your business (though you can just as easily apply them to your own Twitter handle).
1: Don't make it too long
Long handles distract the eye, are hard to remember, and aren't really in line with Twitter's ethos of succinct communication. Plus, it makes it harder for people to retweet you as your handle will take up valuable space in their tweet. We recommend keeping your handle to a maximum of 15 characters.
2: Use easy characters
Some characters (such as a capital 'I' and a lower case 'l') look very similar, and can make it hard for people to work out what your name is. Whatever handle you choose, make sure it's easy for someone to type out or write down if they need to (you can use capital letters to help you if needs be).
3:Change it if it's not working
The good news is that, if your Twitter handle really isn't working for you, then you can change it. As this article explains, it's simple to do – you just go to the settings page and make the change – but there are consequences to bear in mind, such as losing your old conversations and your old name not linking back to your account, so double check you'll be happy with the outcome before you decide to make the change.
What do you think? Do you have any tips for creating a great Twitter handle? Let us know in the comments – or drop us a line on Twitter using the buttons below.
https://hn-marketing.co.uk/wp-content/uploads/2015/03/IS2A041-3-256x148.jpg
148
256
Jon
https://hn-marketing.co.uk/wp-content/uploads/2015/10/HN-site-logo.jpg
Jon
2015-03-24 09:43:54
2015-10-29 12:07:41
3 tips for creating a great Twitter handle for your business