As
customer reference programmes become more important
to our clients, many of them are reassessing the way their case studies are written, looking for a more engaging style of storytelling. Sometimes this leads to a tension between the old way of doing things and the new. That's what lay behind a call I took recently from a client looking for advice on a case study opening.
The problem: context vs moving the plot along
If you're trying to draw a reader into a story, starting with a paragraph that is effectively a bit of company boilerplate is hardly designed to capture the interest and imagination of the reader. You know the type of thing:
AnyCo is the world's leading supplier of widgets to this industry and that industry. Its thousands of staff operate in dozens of countries to generate annual revenues of so many millions of dollars.
Our instinct as storytellers is to dispense with this kind of background unless it really is directly relevant to the core narrative; and if it is relevant, we aim to make that relevance more immediately obvious and express it in a more interesting way.
The client recognised this but was concerned about alienating readers. Not only are people used to case studies starting with a bit of blurb about the subject company, but it's also arguable that the context creates a picture in the reader's mind that they'd feel slightly lost without, even if it's not necessary to the story. It's no good if you start telling a gripping story but all your reader wants to know is: 'Who are we talking about here? Tell me something about them first.'
The solution: weave context into story
Our solution to this problem is twofold:
We recommend designing a case study template that has a small 'about the company' section, readily visible on the front page, for those who want that kind of anchoring context. This lets you dispense with unnecessary company background in the narrative flow.
Secondly, we certainly don't recommend leaving the reader without an answer to the question 'who are we talking about here?' But the answer should be much more personal and relevant than the boilerplate approach can achieve.
For example, if we're writing about the importance of communications technology to a police force, we wouldn't start with: '[AnyPolice] is responsible for protecting the 100,000 citizens of [Country] from crime'.
We might start with something more like: 'The recent capture of dozens of criminals in a massive nationwide police sting in [Country] could never have happened without the ability of [AnyPolice] to operate in complete synchronicity with the customs and revenue services.'
No doubt there are other ways to reconcile the need for context and good storytelling. Do you have any useful tips? Tell us in the comments.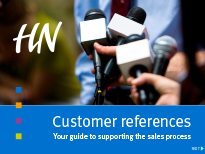 Download our ebook:
'Your guide to supporting the sales process with an effective customer reference programme'



https://hn-marketing.co.uk/wp-content/uploads/2015/11/iStock_000015705097Large-HN-256x148.jpg
148
256
Denise
https://hn-marketing.co.uk/wp-content/uploads/2015/10/HN-site-logo.jpg
Denise
2011-06-30 01:40:07
2016-01-04 14:06:50
Case study copywriting: tips for getting the intro right