Free, B2B content-strategy guide
Top tips for a successful B2B content strategy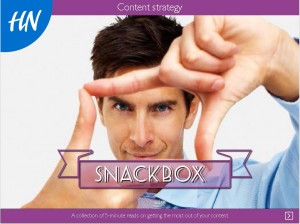 Trying to get a content strategy in place can often feel like an impossible task. It's a very competitive world out there and only the best content survives.
That's why we've created a clear guide to help you implement some simple changes to your B2B content strategy, giving it that extra push it needs to be successful.
Cut through the haze with this easy-to-follow guide and realise the full potential of your content assets.
With this e-mag, you'll discover:
how to stop your content driving business away;
why YouTube should be an integral part of your content strategy;
how to effectively use social media to support your content;
how to make your content go that extra mile.
Confirm your details here to download our e-mag
Opting in: we won't clog your inbox. We save email for the really tasty bits and post regularly to our blog and Twitter accounts with the everyday stuff. And, rest assured, we won't give your contact details to anyone.