Free case study and reference programme e-mag
The power of B2B customer-reference programmes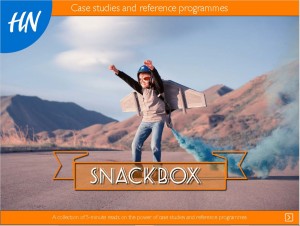 It's often difficult to get customers to participate and provide examples of your great work for your B2B customer-reference programme. Why should the customer care? And if you do get a customer reference, how do you go about turning what you've got into the customer case study you need?
Knowing how to get started is just the first step. Our simple guide focuses on increasing your customer references while producing engaging copy for a stand-out customer case study.
In this guide, you'll discover:
how to build confidence in order to secure customer participation;
how to understand the benefits for your customers in participating in your advocacy programme;
how to prepare for video interview, ensuring that you're best equipped to capture the best footage on the day;
how to create killer copy to stand out from the crowd in your accompanying customer case study.
Confirm your details here to download our e-mag
Opting in: we won't clog your inbox. We save email for the really tasty bits and post regularly to our blog and Twitter accounts with the everyday stuff. And, rest assured, we won't give your contact details to anyone.