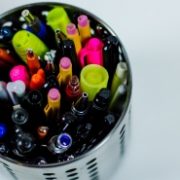 Trevor | Graphic Designer
Bring the written message alive by packaging it with visual creativity
Trevor takes great content and adds a new dimension to it to make it brilliant. Like any great artist, he understands that it's not enough to create something that's easy on the eye — it needs to deliver a message too.
The power of technopathic artistry
Technopathy is the ability to manipulate technology. Most of us can operate Word or Internet Explorer but give us a graphics package and the best we can do is a stick drawing.
Trevor uses the power of his mind, together with his skills as an artist to come up with imagery that not only reflects exactly what we're saying but looks simply awesome. And we honestly don't know how he does it.
This superhero enjoys countryside pursuits.
Perhaps the key to Trevor's creativity is the amount of time he spends outdoors; fishing, cycling or demolishing… Lindor chocolates.
His favourite place is on the other side of the planet — Queenstown in New Zealand