Customer References ebook
Your guide to supporting the sales process with an effective B2B customer reference programme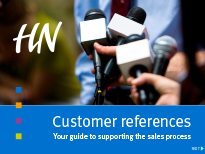 Customer advocacy can be your most powerful tool – especially as today's decision-makers increasingly rely on the opinions of their peers. There's never been a better time to put your customer reference programme under the microscope.
Download our ebook for insight into why and how the role of customer references is changing and how you can kick-start an effective and sustainable customer reference programme.
In this ebook you'll discover how to:
Create content that engages time-poor decision-makers
Build, or improve, your customer reference programme
Do more with your reference programme
Confirm your details here to download our ebook
Opting in: we won't clog your inbox. We save email for the really tasty bits and post regularly to our blog and Twitter accounts with the everyday stuff. And, rest assured, we won't give your contact details to anyone.