Camera confidence: prepare your video presenters for success!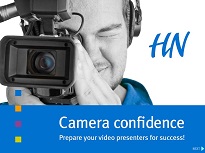 The power of video marketing has already been proven in the B2B world and is gaining traction quickly. We know you're keen to take advantage of the best ways to engage your customers, but does the thought of stepping in front of a camera send a shiver down your spine?
Discover tips and tricks that will help you and your presenters conquer those nerves and get to grips with creating great video content. Just fill in the form to get the ebook.
In this ebook you'll:
Learn how to plan your content so that it gets your message across
Know what to do on screen and give a great performance
Discover how to handle interviews with journalists without losing your cool
Confirm your details here to download our ebook
Opting in: we won't clog your inbox. We save email for the really tasty bits and post regularly to our blog and Twitter accounts with the everyday stuff. And, rest assured, we won't give your contact details to anyone.