Customer reference programmes are a great way to promote your product or service to potential new customers and overcome any objections they may have. However, the amount of time your reference customers are willing budget for this may be limited.
If that's the case, you can still deliver value for yourself, and them, without investing too much time. Ideally, you'll offer them a range of options and allow them to choose the level of involvement that best suits them. For example:
Level 1: Logo and name only
Use of your customer's name and/or logo on your website and in marketing collateral requires the least amount of commitment. But, remember, you still need their permission.
Level 2: Testimonial
Customer quotes that endorse your company's work are valuable when you have to work that little bit harder to engage with your audience, such as when using direct mail or PR activity, for example.
Level 3: Text-based customer success story
In an ideal world, your customer will be willing to participate in a telephone or in-person interview and to review the copy before publication. This can take the form of a press release, newsletter article or printed case study.
Level 4: Video story
If your story is one of real human interest, why not exploit  audio and video for your customer reference programme to show the emotion behind the words? A three-minute video interview can be used at conferences or seminars, published online and promoted through social media channels.
Level 5: Speaking engagement
If customers have a very high level of goodwill toward your company, they may be willing to speak at a conference, trade show, seminar or similar event. Get the most value you can from this commitment: such presentations can be recorded and broadcast on your website as a video or podcast.
Level 6: Reference visit or telephone reference
The highest level of commitment a customer can make to your company is to agree to be a reference site. The customer will agree to take telephone calls or host visits from your qualified potential customers to allow them to discuss their experience with you and see elements of the solution in action.
Which customer reference activities have worked best for your company? Let us know in the comments field below, or through Twitter and LinkedIn.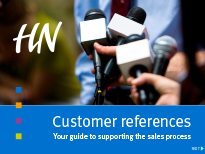 Download our ebook:
'Your guide to supporting the sales process with an effective customer reference programme'
https://hn-marketing.co.uk/wp-content/uploads/2015/11/Customer_references_blog.jpg
248
710
Carey
https://hn-marketing.co.uk/wp-content/uploads/2018/05/HN-logo.png
Carey
2016-02-16 10:46:11
2016-06-13 15:40:48
Tailor your customer reference programme to suit your client